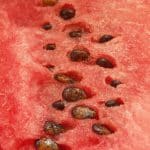 Your acupuncturist wants you to know…that watermelon is a potent Chinese herb that will help you survive the summer heat. That may sound obvious, but honestly, if you have trouble surviving the heat of summer, I highly recommend eating a bit of watermelon daily. It's also helpful to remember that many inflammatory issues are at heart, a heat response. So, we can
feel worse during the summer months because nature is heating our already overheated bodies. Watermelon will chill and hydrate.
Some conditions which may benefit from eating watermelon daily during the heat: Depression, Anxiety, Acne, arthritis, eczema, colitis, diverticulitis, and asthma.
And here's a note from Dr. Sheehan:
"The Horrible Flu Experiment:
So a couple of weeks ago, while I was down in Florida, right after I was done teaching, I suddenly came down with the flu. Of course it was Monday, Memorial day, and I couldn't get my supplements. Suddenly, I got a wicked fever. My whole body ached. I was dizzy. I was exhausted. At first, I didn't even realize I had the flu. I hadn't had it in years. During my times when I had lots of immune problems, I had gotten lots of colds, but no flus. Needless to say, it totally took me by surprise, and I felt like
complete garbage. I have new respect for my patients who say that they get the flu. Something good did come out of it though. One of the things that we learned in Nutrition Response Testing Advanced Clinical Training was that Cataplex AC was the go to supplement for the flu, both respiratory and bowel versions of the flu. As soon as we got back to Lancaster, Laura tested me, and lo and behold, I needed Cataplex AC. So I took it. I felt better in about 20 minutes. So what's the moral of the story? Always
keep these supplements on hand, and start taking them if you feel like you're getting sick. Take them while you call my office for an appointment, to make sure we get the exact right program to handle your immune situation.
At the first signs of a cold-3 Congaplex, and 6 Antronex per hour
At the first signs of a flu (bowel or upper respiratory)-3 Cataplex AC and 3-6 Antronex per hour.
Hope this helps next time you feel under the weather!"
Here is Laura's food journal for the last couple of days:
Sunday, June 5, 2016
6:30 AM: coffee with butter, 1 PB meal bar
9:30 AM: 2 pieces of sugar free chocolate, 3 pork rind banana fritters
11:00 AM: 1/2 of a diet pepsi
1:00 PM: 1 naked burger, ok it had homemade mayo on it, baby carrots with hummus
4:00 PM: protein shake with coconut milk, whey protein, blueberries, strawberries, and carrot greens
Monday, June 6, 2016
7:30 AM: coffee with butter, pork sausage with fried onions
12:30 PM: Himalayan buffet – lettuce, cucumber, vegetable dishes, spicy chicken balls, lentils in cream sauce, 2 veggie pakoras, mint chutney, onion chutney
3:00 PM: 1/4 of a diet pepsi, black tea